Corporate Overview
Urban One, Inc. (urban1.com), formerly known as Radio One, Inc., together with its subsidiaries, is the largest diversified media company that primarily targets Black Americans and urban consumers in the United States. The Company owns TV One, LLC (tvone.tv), a television network serving more than 59 millio... 
Urban One, Inc. Receives NASDAQ Notification of Non-Compliance with Listing Rule 5250(c)(1)
8/22/23
URBAN ONE AND CHEVROLET COLLABORATE ON 2ND ANNUAL COMMUNITY IMPACT TOUR PRESENTED BY NEWSONE
8/7/23
Sounder and Urban One Release Groundbreaking Research on AI/ML-Driven Brand Safety and Suitability for Podcasting
8/2/23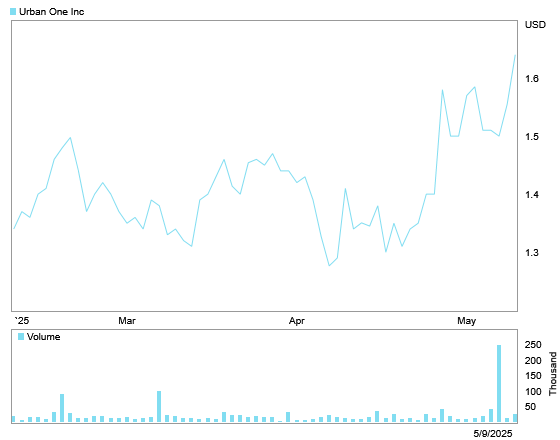 Data Provided by Refinitiv. Minimum 15 minutes delayed.
FEATURED REPORTS
Receive email alerts
Sign up here to receive e-mail alerts.